Medical Trip – February 2016
HIGHLANDS MISSION COOPERATIVE
February is the month for our Medical team.   We had the opportunity to go in support of our local church partners in various villages in the regions of Esteli, Matagalpa and Jinotega.  This year we concentrated on the region of Jinotega, with clinics in the villages of Bocay, El Cua, La Rica and Los Prendedisos.  The gang from Celebration Church in Hoschton, GA, the brother and sister team of Travis and Kerri from Daytona Beach, FL, along with three Nicaraguan doctors from Jinotega spent 4 days sharing faith, hope, love and medical care with the villagers.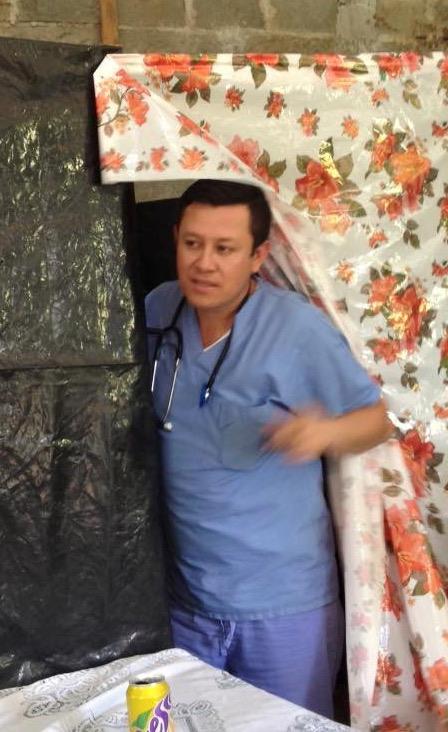 Every year the medical mission brings unique challenges, and this year was no different.  The first couple of days were fraught with transportation issues.  Wednesday and Thursday God was teaching us to work well with others, even if their agenda made it more difficult for us to do the work He had called us to Nicaragua to do.  Through His grace we were able to serve the people in spite of our difficulties.
This year we have seen God working on the fringes.  By that I mean, each team came to do a particular task and His blessing and spirit was at work in their given ministries. But along the way, God had other ministry for us to do. Just as we saw during January in our ESL ministry, God is using your faithfulness in coming year after year to serve in the same cities and villages drawing people outside our ministry focus to seek us out. Because of Him, we have become a place where Hope can be found.
During the medical week God was moving on the heart of Stalin, one of our translators who had been with us for the first two months of the year.  When we began our ministry we made a commitment to minister in all areas, not just to the villagers or the children of the feeding centers, but to our own staff as needed.  God used each team to help minister to and nurture the growing faith of Stalin.  On Saturday at the conclusion of the medical mission, Stalin came to know Christ as his Savior.  We often don't know the influence we have on others or what or whom Jesus is using to draw men and women to himself.  God used this team's faithfulness to serve to bring a young man to faith.
Each team is doing a different work.  Some will see fruit while others plow hard ground.
"What then is Apollos? What is Paul? 
Servants through whom you believed, 
as the Lord assigned to each. 
6 
I planted, 
Apollos watered, 
but God gave the growth. 
7 
So 
neither he who plants nor he who waters is anything, but only God who gives the growth. "              
1 Corinthians 3:5-7
God is at work in the lives of each team member, each person touched by the teams.  Pastor Higinio shared a story about a gentleman in El Cua who came to the church as a result of the medical clinic last year. Pastor shared how he is becoming one of the church's most faithful leaders.  When we lay aside our expectations and simply trust Jesus, doing what we know He has called us to do, great things happen.
Great things
are

 happening, and I look forward to more stories of Kingdom impact as God moves among His people.
Upcoming Ministry Projects
Chestnut Mountain Church from Chestnut Mountain GA, kicks off a busy season of ministry with construction on the Prince of Peace Feeding Center.  CMC is sending a group of men at the end of March to prepare the way for their youth over spring break the first week of April.
Following CMC, Vine Branch Community Church from Cookeville, TN will be  working to bring clean water to the village of Santa Isabel.  The Branch is sending two teams that will be working over a two week period.  Some of their team members will be staying over, as new members arrive for week two.
Sandwiched in between those two groups we will be hosting a Ministry Information Dinner with many of the ministries who operate in and around Jinotega. We are gathering together with the hope of building cooperation and understanding, so that we can best use our resources and maximize ministry efforts.  On Thursday,  April 21, will be hosting a Pastor's luncheon. We are hoping to build community and cooperation to better serve the people in the region of Jinotega
Continue to pray for HMC and our church partners, both in the US and in Nicaragua.  God is moving and our desire is to be available to go where ever He leads.
HIGHLANDS HOUSE
With the growth of Faith Community Jinotega and their growing need for more space, we are in need on more room.  So, we are continuing with the work on Highlands House.  As God provides, we will be moving forward with the construction. We have great hope of having one our two new rooms "habitable" by the summer – not finished, but better than camping out. It is exciting to see God working and He knows our needs.  Pray for us as we lead and make decisions about our future.  Pray for God's provision.  Pray for the men and women who will be trained to better serve their communities.
Meeting needs, Changing lives, Shaping communities
Passion       Hope       Purpose